Beginners Training equipment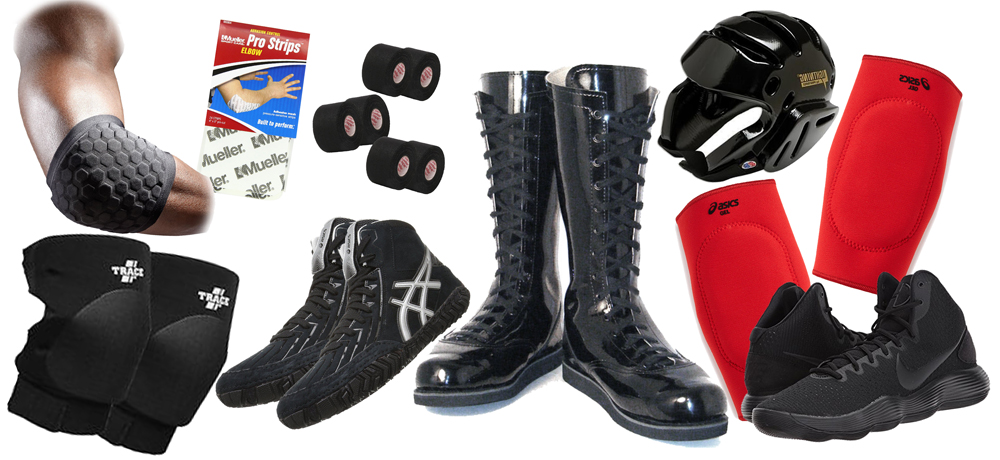 TRAINING EQUIPMENT
It is very important to have training gear in order to protect yourself and fully excel in Pro Wrestling training. In addition, it is extremely imperative that you keep your gear clean and dry for every session. Listen I learned to wrestle without any of the gear. You will learn how to wrestle for optimal protection to your body. But until then we recommend you get gear. Below is a list of required gear.
• Footwear: We recommend you get Pro Wrestling boots as they will give you proper support and protect your feet, ankles & calves. We recommend RD WRESTLING BOOTS.  Other than Pro Wrestling boots we advise getting Wrestling Shoes with good support or High top Athletic Shoes. We recommend ASICS Aggressor
or Nike Hyperdunk
. You can even use athletic shoes you already have, we just require you use those only for training and not everyday use.
• Knee Pads: You have to protect your knees in a sport where anything can happen, that's you need knee pads.  We recommend Trace Knee Pads
. Get the volleyball set as they'remade to hit hardwood floor.  You only have two knees so we advise doubling up with an ASICS Super Sleeve
. Another popular options is AMA Knee Pads
• Elbow Pads: Your elbows will get mat burn so you should get elbow pads or elbow tape.  You can choose not to, but we recommend Hex Elbow Pads
or Pro Strips Elbow 4 Inch x 8 Inch
• Protective Headgear:  Concussions are very real in Pro Wrestling so until you properly learn the back bump you will have a bump helmet. We have class provided headgear you can share with classmates otherwise you can purchase your own Martial Arts Headgear
• Sports Tape: You find the need for Sports Tape
after your first sprain and then you'll make sure you always have a roll. 
• Gym Towel: You will sweat and you will need a clean gym towel every session.
• 2 Gym shirts: Once again, you will sweat and if your shirt becomes soaked you are required to do a shirt changed. 
• Gallon of Water: There is no water provided at training so you are responsible to bring your own. 
Go to Sign up page or If you have any question or concerns regarding your gear please email info@sanitnobros.net